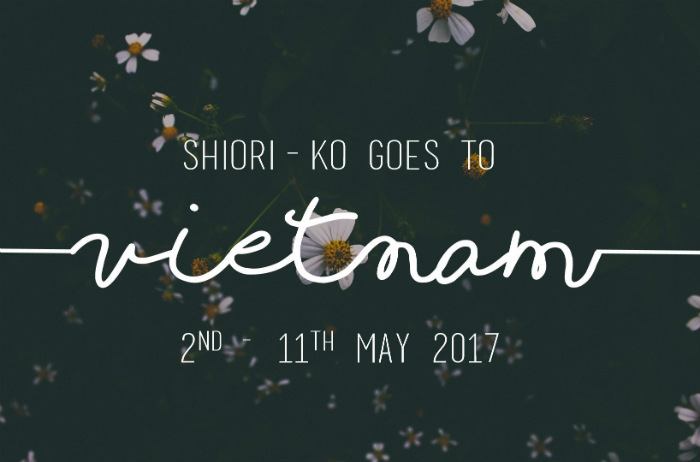 Well, it's my first time to post as Shiori-ko but in Hzboy's website. Because, of course, I have some intentions to be announced. Or, in other words, I want to share my story which still related with my RKMENTEE Program.
RKMENTEE is a program which selection is so tight. We are selected from around Indonesia. Chosen only 3 of us (me, Yudi, and Enje) to get the opportunity for being mentored by Prof. Rhenald Kasali in Rumah Perubahan. And let me introduce you to my alter-ego, called Shiori-ko.
Shiori-ko is a girl who loves read and book so much. She often fall in love with beautiful cover design. Shiori-ko also loves to spill out her opinion and thought about bookish thing in her blog.
Okay, back to the trip. As you read from the title, this year is my trip to get lost. In my second year of RKMENTEE, it's my turn.
After quite long of thinking, I've decided that I will go to Vietnam. A country in South East Asia which has lower currency than Indonesia Rupiah. Yes, that's my first consideration.
I have bought the ticket few days ago. Impulsively. In the middle of my working hours. It still bugging me because my mentor, keep asking me when I will go to him and tell him my plan about this Life Changing Experience (we have agreed, we don't use "30 Paspor" as the title of our program). The main objective of this program is to broaden our knowledge, to learn directly from how the universe conspires us in many ways so we can keep developing ourselves.
The Going Solo Travel Objectives
To be honest, when I bought my round trip ticket from CGK – SGN, I still had no plan on where I will go. But, at least, I have some traveling objectives which are:
I want to explore myself more. They say, miracle happens outside our comfort zone. Solo traveling to the country where the language is slightly different from Indonesia will surprised me.
They also said, solo traveling when you are at your 20s is something you have to do at least once in your lifetime. And I think this is the right time. In the middle of my RKMENTEE program.
I am curious enough with Vietnam's War Museum and Cu Chi Tunnel. Until today, I only know the stories from my parents and from National Geographic. Why don't I visit the place while I am in Vietnam?
THE FOOOD! Because, who doesn't love any sexy and exotic food?
And because I am a bookdragon, it will be great if I can pay a visit to their local and indie bookstores. As you may know, if we talk about local and indie bookstores, they always refer to Singapore (like, Book Actually). Some websites I have read mostly give recommendation to go to some Vietnamese tourism objects. There's still few travelogue which focuses on bookstore hopping.
But, I Have Some Issues Here
As I mentioned above, I only have the tickets. From 2nd to 11th May 2017. A week. That's the only thing I can assure to you (beside my passport). I haven't arranged the details such as:
The sanctuary. I may browse from Coachsurfing or Airbnb for place to sleep instead of hotel. Or maybe, anyone of you can give me any recommendation for hosts in Vietnam? — SOLVED! A friend of my friend (Vietnamese) offered to share the apartment with me.
Since I haven't Googled that much, I still have no itinerary on where I should go. Where I should drag my feet from SGN. — 50%! Some friends already helped me a lot in arranging the trip. But, if you still want to help, pls shoot!
I am so excited for my solo traveling to Vietnam. But, it will be great if I know some tips (such as the safety) when I spend my precious week there. — Still, in need of some tips.
And…some money for me to survive will be great! — has not solved at all.
Would You Like to Help?
Issues I mentioned above are the things I keep thinking by myself. When I spill it in this blog, I hope anyone of you could help me! And what you guys will get in return?
Blog posts a.k.a my report of my soon-to-be hilarious solo trip to Vietnam for a week! (plus, I visit local and indie bookstores. I guess you are curious enough, don't you?). I can also make it tailored and exclusive for you (or your media/magazine).
Postcards or any Vietnamese souvenir especially for you. Who knows I can get you Starbuck Vietnam's tumblr or anything you want me to bring?
Plus, if you would help me in financial issue, I will give you the transparency on how I manage that money (I will send it to you privately).
So, if you interested with my Life Changing Experience program, I'd like to have further discussion with you. Please reach me by email ([email protected]). Do not forget to add the subject "Shiori-ko Goes to Vietnam".
Ups! You can follow my story about this thing start from my prep to my post solo trip through this blog and my social media. See you!